Custom Production of Ultra-Pure Proteins for Crystallography
Our collaboration with IniXium Inc., a Canadian company, enables us to provide our customers with ultra-pure, high quality proteins essential for structure determination and crystallographic applications. We understand the importance of accurately determining the binding state of small molecules to their targets to facilitate discovery and optimization of highly potent compounds. Crystal structure analysis can be a powerful method to promptly and efficiently achieve this! The professional team of crystallography researchers makes it possible through custom production of the highest grade proteins.
Our service begins by offering a quotation for your request, including turnaround time and cost. To facilitate delivery of the optimal protein for structure analysis and fragment based drug discovery, our service includes a Go/ No-go discussion before actual protein production is started.
Review and discussion of project progress enabling Go/No-Go decision prior to actual production
Access to highly experienced crystallography professionals using proven technologies
Focused on excellent bacterial and mammalian cell expression systems
Advantages of mammallian expression over insect expression at IniXium
Time/Cost Effective Approach

● Skip laborious viral stock preparation/scale-up steps
● Scale up to grams of yield with transient expression very rapidly

Broader Target Spectrum

● Some proteins feasible only by the mammalian system

Closer to the native target

● Glycosylation in mammalian cells is more native like
Please feel free to contact us
Protein Production Flow
Steps
Phase 1
Gene synthesis, sub-cloning & expression
Protein production & purification pilot test
Go / No-go meeting
Phase 2
Protein expression
Purification

About IniXium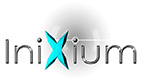 IniXium based in Quebec, Canada, is a corporation consisting of seasoned experts in the areas of protein research and structure analysis. Founders of IniXium have great backgrounds of having engaged in crystallography at international mega pharmas for more than 20 years. http://www.inixium.com/