Pipeline
SRA141 (AS-141): CDC7/ASK Inhibitor
CDC7 (cell division cycle 7) is a serine-threonine kinase that plays a critical role in DNA synthesis and is required for the activation of DNA replication origins throughout the S phase of the cell cycle. Inhibition of CDC7 in cancer causes lethal S phase or M phase progression, whereas normal cells survive, most likely through induction of cell cycle arrest at the DNA replication checkpoint.
Carna has successfully developed a selective and potent CDC7 inhibitor, AS-141, with a unique mechanistic slow off-rate. Carna has licensed worldwide rights to develop and commercialize AS-141 (Sierra Oncology code: SRA141) to Sierra Oncology, Inc. Preclinical studies of SRA141 suggest a variety of solid tumors and hematological malignancies with potential for response to CDC7 inhibitors.
Sierra Oncology will initiate a Phase 1/2 trial with SRA141 in patients with advanced colorectal cancer in 2019.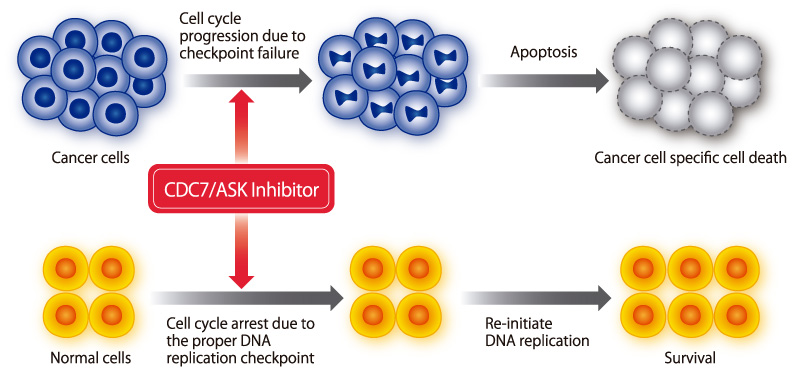 Wnt signal inhibitor (TNIK inhibitor)

Conventional chemotherapy treatments are designed to kill cancer cells, however they are ineffective against cancer stem cells. This is a potential cause of tumor recurrence and metastasis. Wnt signaling is a critical regulator of stem cells, and activation of wnt signaling has been associated with many cancers and cancer stem cells. TNIK (TRAF2 and NCK-Interacting Kinase), is a serine-threonine kinase that binds to the transcription factor TCF4, which, along with beta-catenin, is one of the main molecular effectors of the Wnt signal in cancer stem cells. Inhibition of TNIK is expected to be an innovative curative cancer therapy by targeting cancer stem cells. This novel wnt-signal related kinase was originally identified by our collaborator at the National Cancer Center Research Institute. Carna has identified compounds that are potent and selective inhibitors of TNIK and also strongly inhibit Wnt pathway activation induced by the Wnt3a ligand. Our lead TNIK inhibitor demonstrates in vivo activity against a human colon cancer xenograft in nude mice. The IND candidate is currently undergoing pre-clinical IND-enabling toxicological and efficacy studies. We are developing NCB-0846 and NCB-0594, first-in-class TNIK inhibitors that have shown strong anti-tumor efficacy against several cancer models.

AS-0871 : BTK inhibitor

Autoimmune disorders such as rheumatoid arthritis occur when the body's immune system attacks and destroys healthy body tissue with an aberrant immune response. The exact cause of autoimmune disorders is still unknown. With some aberrant immune responses, antigen-presenting cells such as dendritic cells activate T cells, and then B cells are activated through the B cell receptor leading to B cell proliferation and the production of autoantibodies and immune complexes. Macrophages are also activated through Fc γ-receptors, which produce inflammatory cytokines. These two inflammatory pathways are regulated by BTK (Bruton's Tyrosine Kinase), and therefore, BTK is an attractive target for the potential treatment of multiple diseases involving B-cell and/or macrophage activation, such as B cell malignances, asthma, and rheumatoid arthritis. The use of kinase inhibitors for non-oncology indications such as rheumatoid arthritis is thought to be a difficult challenge due to anticipated adverse effects related to off target activities of inhibitors. Thus, it is vitally important to optimize inhibitor selectivity with the anticipated result of developing safer drugs. To ultimately develop a selective BTK inhibitor for the treatment of autoimmune diseases, initial discovery should focus on identifying a highly selective compound. Targeting inactive conformations of a kinase is an attractive approach for developing a selective kinase inhibitor, because it is generally thought that structures of inactive conformations are more diverse than active kinase forms. Carna has developed a highly selective BTK inhibitor, which preferentially binds to an unactivated form (inactive conformation) of BTK, with expected superior safety and efficacy profiles.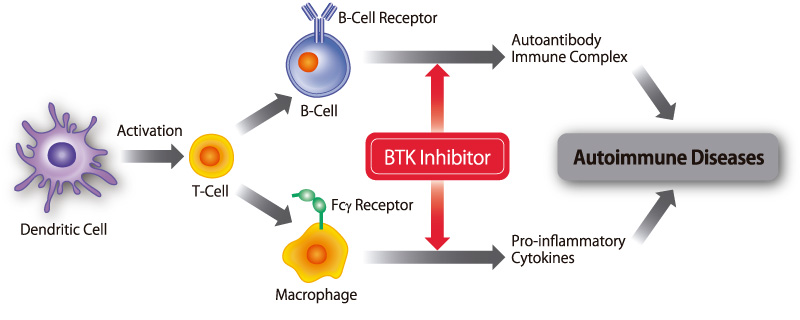 AS-1763 : BTK inhibitor
AS-1763 is a highly selective, orally bioavailable, non-covalent inhibitor of both wild type and C481S-mutant Bruton's tyrosine kinase (BTK). BTK plays a crucial role in BCR signaling, essential for B-cell development, and BTK has been recognized as a validated therapeutic target for B-cell malignancies. Ibrutinib, the first FDA-approved BTK inhibitor, has been appreciated as a promising targeted therapy for patients with B-cell malignancies. Ibrutinib covalently binds to the Cysteine 481 residue (C481) of BTK to inhibit BTK enzymatic activity, but recent studies indicated that about some of patients discontinued Ibrutinib therapy at a median follow-up of 20 months due to drug resistance. The primary resistance mechanism for ibrutinib is thought to be via C481 mutations. Mutation of C481 prevents covalent binding of ibrutinib and other second generation covalent BTK inhibitors, and diminishes inhibitory activities.
In addition, several adverse effects such as bleeding, rash, atrial fibrillation have been reported, which were mostly associated with the off-target effects by inhibiting other kinases.
Therefore a selective and non-covalent BTK inhibitor is highly demanded to overcome ibrutinib resistance.
AS-1763 was designed to inhibit both wild type and C481S mutant BTKs in a highly selective and reversible manner.