Biotinylated Kinases
Biotinylated Kinases are now available from Carna Biosciences! These important reagents are best suited for the study of binding affinity and other kinase-molecule interactions on devices measuring Surface Plasmon Resonance (SPR), BioLayer Interferometry (BLI) and other similar values. They can also be utilized in homogenous proximity-based binding assays such as TR-FRET to interrogate inhibitor binding affinity, determine on-off rates, and measure binding kinetics.
The immobilization of target proteins onto sensor surfaces without impairing their structure and activity can be quite a challenging step in small molecule drug discovery.
Carna' s in-house single-site specifically biotinylated kinases can easily facilitate this immobilization and lead to the acquisition of real-time and accurate data for quick evaluation in your programs!
Advantages of Carna's Biological Biotinylation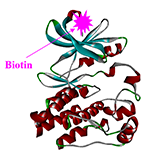 Kinases are labeled with a single biotin on the N-terminus
Easy-to-use - no additional labeling required
Native, catalytically active kinase domains.
High quality human proteins produced in Baculovirus expression system (insect cells)
Stable Activity
Some kinases are available with pre-activation by ATP treatment, or unactivated (no ATP pre-treatment).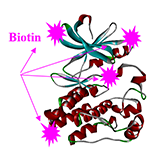 Advantages vs. Chemical Biotinylation
Single vs. multiple biotin molecules, which can possibly interfere with the ATP binding site following chemical biotinylation.
Preserved kinase activity and structure, which can be altered with chemical modification.
No additional purification is required (for excluding non-reacted biotin).
Reference:Quick Evaluation of Kinase Inhibitors by Surface Plasmon Resonance
Using Single-Site Specifically Biotinylated Kinases
Daisuke Kitagawa, Masaki Gouda and Yasuyuki Kirii
J Biomol Screen 2014 19: 453 originally published online 30 September 2013
DOI: 10.1177/1087057113506051
Please feel free to contact us for more details.