Biotinylated Kinases
Carna' s biologically produced biotinylated protein kinases, exclusively developed and produced in-house, have a single biotin attached to the N-terminus and guaranteed purity >80%. These kinases are useful for the study of compound binding affinity and other kinase-molecule interactions using Surface Plasmon Resonance (SPR), BioLayer Interferometry (BLI) or other assay formats that utilize biotin streptavidin interaction for detection. Its lower rate of interference with cellular proteins leads to the rapid acquisition of reliable data with high sensitivity and low background. Our Biotinylated Protein Kinases are easily mobilized onto sensor surfaces without impairing their structure and activity.
Carna' s single-site, specifically biotinylated kinases are also useful for assay development using FRET, ELISA, AlphaScreen™, and HTRF® technologies.
Advantages of Carna's biologically biotinylated kinases
Kinases are labeled with a single biotin at the N-terminus

Easy-to-use ; no additional labeling required

Native, catalytically active kinase domains are preserved

High quality human kinases produced via Baculovirus expression system

Stable activity determined post expression

Select kinases available pre-activated (via ATP treatment) and non-activated (without ATP treatment)*
* products with (*) are available in both activated and non-activated forms as described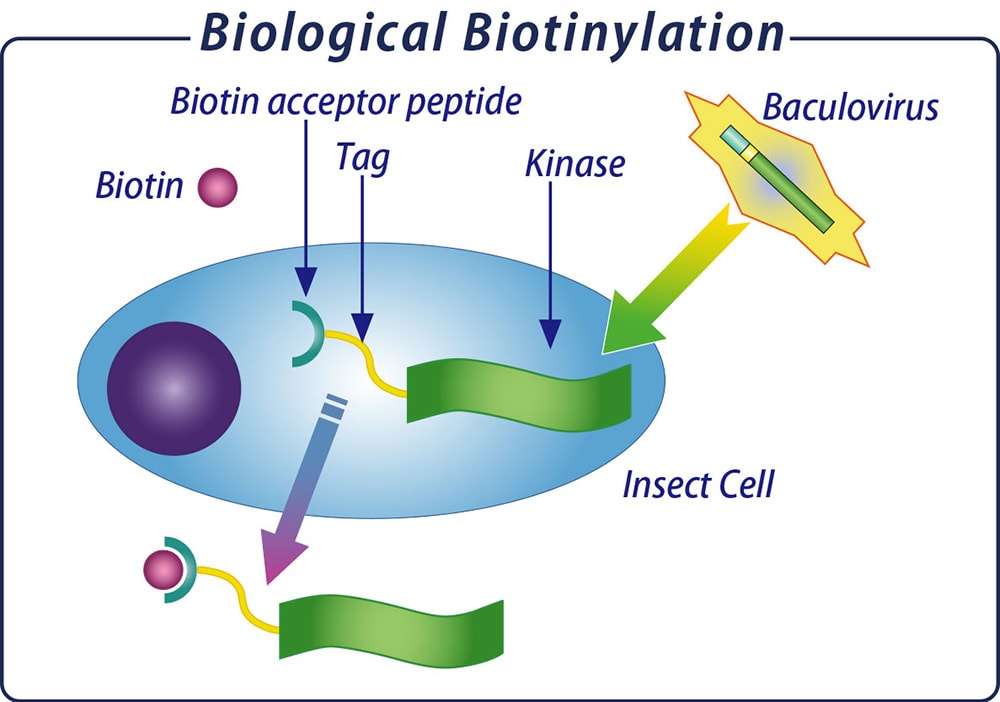 Carna' s single-site specifically biotinylated kinase
(Note)Chemical Biotinylation Disadvantages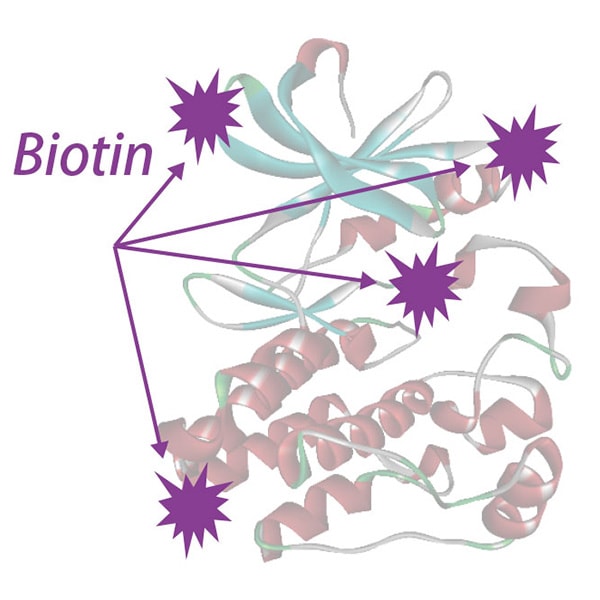 Chemically biotinylated kinase
Multiple biotins may interfere with the ATP binding site following chemical biotinylation
Kinase activity and structure can be altered after chemical modification
Additional purification may be required (to eliminate non-reacted biotin)
High affinity between biotin and streptavidin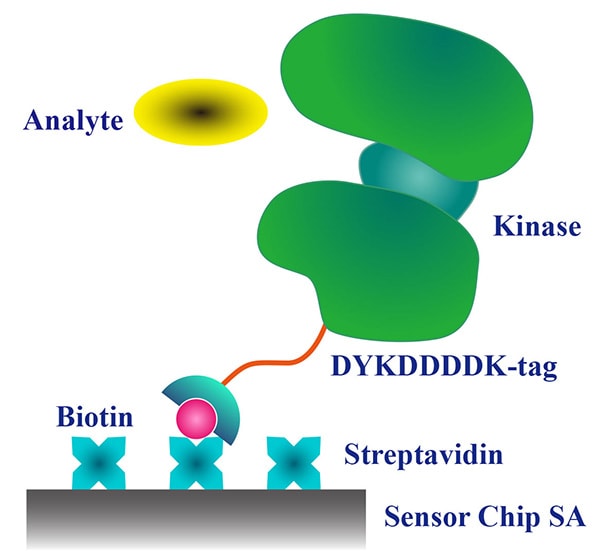 The strong binding between streptavidin and biotin is an invaluable asset that is widely utilized in biochemical experiments. Numerous applications including evaluation of intermolecular interactions based on the surface plasmon resonance (SPR) detection ( image on the right), determination of on-off rates and binding kinetics are made easier using Carna's biotinylated kinases.
SPR data examples* using Carna's Biotinylated Kinases are shown on the list page.
*Measured using Biacore T200 in collaboration with Oncolines B.V.