Detection of Protein-Protein Interactions ProbeX™
Our split luciferase complementation assay utilizing unique luciferase derived from Pyrearinus termitilluminans (Emerald Luciferase, E-Luc) is a valuable tool for for your study of Protein-Protein Interactions (PPI). This enables detection of various types of PPIs, including GPCRs, with ease and high-sensitivity. In addition to established cell lines on the list, we develop stable transfected cell lines best to detect specific PPIs of your interest.
Split Luciferase Technology
E-Luc is known to emit a brighter and more stable signal than conventional firefly luciferases. The N- and C-terminal domains of luciferase can be separated into two fragments, which can re-associate in cells. When those two fragments of the fused reporter proteins are brought within proximity, they spontaneously refold and generate a detectable signal (patent filed). For more details, please refer to our F.A.Q. page or contact us.

Ligand; DAMGO, 10μM
Ligand; DAMGO, 10μM/
Antagonist; Diprenorphine, 0.1μM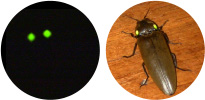 Pyrearinus termitilluminans and Bioluminescence
Photo Credit: Courtesy of Dr. Yoshihiro Ohmiya, The National Institute of Advanced Industrial Science and Technology (AIST)
Application for GPCR
The N-terminal and C-terminal fragments of the split luciferase are fused to β-arrestin and GPCR, respectively. Binding of a ligand to GPCR triggers phosphorylation of GPCR, thereby inducing its interaction with β-arrestin. This interaction brings the N-terminal luciferase into proximity with the C-terminal luciferase, and bioluminescence activity is recovered.
Please view the list showing our validated stable transfectants.We also develop the transfectant cell lines which are suitable for your assay on a fee for service basis. Please feel free to contact us for more details.

GPCR Cell Lines - Results with Antagonists
Each GPCR cell line was seeded in 96-well plates at 2x104cells/well and cultured at 37℃ for 2 days prior to treatment. The cells were treated with corresponding antagonist for 30 min and thereafter stimulated with agonist for 20 minutes. The bioluminescence was measured with Split Glow Cell Assay Reagent. n=3