Mobility Shift Assay(MSA)/IMAP™ Kinase Assay QuickScout™ MAPK Cascade Panel ver. 2.0
Mobility Shift Assay(MSA)/IMAP™ Kinase Assay QuickScout™ MAPK Cascade Panel ver. 2.0
The MAPK cascade plays an important role in the intracellular signal transduction of eukaryotic cells. Our MAPK panel, comprised of 31 kinases includes not only MAP kinases, but also upstream kinases such as MAPKKs and MAPKKKs. This panel is useful for analyzing the function of your compounds in MAPK cascades. The ATP concentration is fixed at 1mM in these assays.
Notice: MAPK cascade assays include multiple protein kinases in each microwell assay to evaluate your compound's effect on the signaling cascade as a whole. This may not be ideal for evaluation of an individual kinase in the cascade pathway.
Guide for our service customers
Please check our service schedule and assay conditions, and select "QuickScout™ MAP Cascade Panel ver. 2.0" on the Application Form. Please submit the completed Application Form as an e-mail attachment to info@carnabio.com.
If you prefer to select targets from other panels such as, ALL targets, Km/1mM ATP conc, or Preincubation targets, please start from here.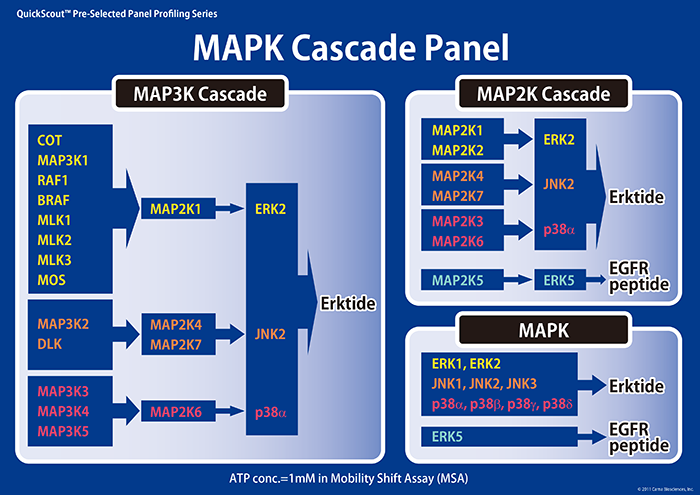 MAPK Cascade Panel Flow
(Click to enlarge image)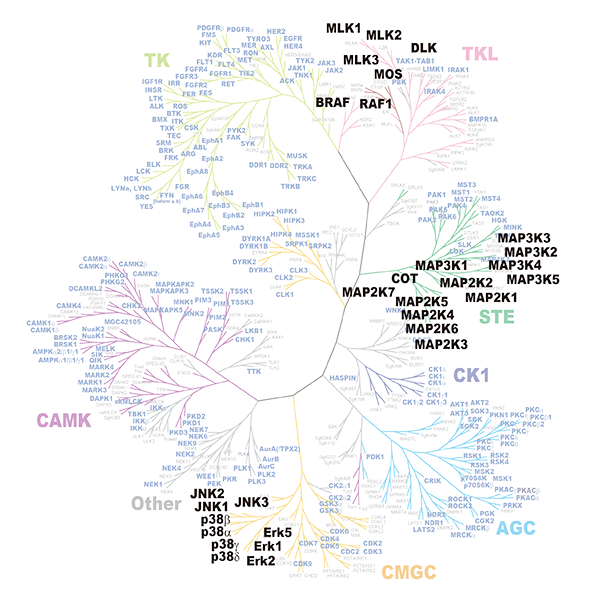 Service Schedule
September 2023
Sun
Mon
Tue
Wed
Thu
Fri
Sat
1
2
3
4
5
6
7
8
9
10
11
12
13
14
15
16
17
18
19
20
21
22
23
24
25
26
27
28
29
30
October 2023
Sun
Mon
Tue
Wed
Thu
Fri
Sat
1
2
3
4
5
6
7
8
9
10
11
12
13
14
15
16
17
18
19
20
21
22
23
24
25
26
27
28
29
30
31
Test sample cutoff for next assays
Assay Start Day for MSA / IMAPTM
Assay Start Day for ADP-Glo™ and MSA(Preincubation)
Date in Red
: Japan Holidays
Guide for Service Customers