Mobility Shift Assay(MSA)/IMAP™ Kinase Assay QuickScout™ STK Panel ver. 3.0
Mobility Shift Assay(MSA)/IMAP™ Kinase Assay QuickScout™ STK Panel ver. 3.0
QuickScout™ STK Panel ver. 3.0 , is comprised of 30 Pre-selected Serine / Threonine kinases including key members from the AGC, CAMK, CMGC, STE, TKL, and Other Group STK kinases. This Panel allows you to screen your lead compounds using the industry's most diverse STK Kinome Sampler and helps you discover and characterize the selectivity of your compounds as potential treatments for cancer, inflammatory, metabolic and/or neurological diseases. The ATP concentration is fixed around the Km value. When combined with our TK20 Panel and/or Cell Cycle 30 kinase Panel, these pre-selected options provide you with a wide scope of data to better characterize your compounds.
Guide for our service customers
Please view our service schedule and assay conditions, and select "QuickScout™ STK Panel ver. 3.0" on the Application Form. Please submit the completed Application Form as an e-mail attachment at info@carnabio.com.
If you prefer to select targets from other panels, such as ALL targets, Km/1mM ATP conc, or Preincubation targets, please start from here.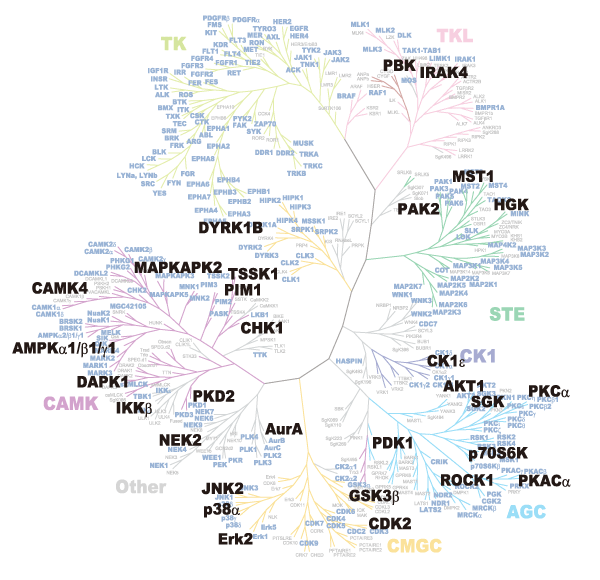 Service Schedule
September 2023
Sun
Mon
Tue
Wed
Thu
Fri
Sat
1
2
3
4
5
6
7
8
9
10
11
12
13
14
15
16
17
18
19
20
21
22
23
24
25
26
27
28
29
30
October 2023
Sun
Mon
Tue
Wed
Thu
Fri
Sat
1
2
3
4
5
6
7
8
9
10
11
12
13
14
15
16
17
18
19
20
21
22
23
24
25
26
27
28
29
30
31
Test sample cutoff for next assays
Assay Start Day for MSA / IMAPTM
Assay Start Day for ADP-Glo™ and MSA(Preincubation)
Date in Red
: Japan Holidays
Guide for Service Customers