Mobility Shift Assay(MSA)/IMAP™ Kinase Assay QuickScout™ TK Panel ver. 2.0
Mobility Shift Assay(MSA)/IMAP™ Kinase Assay QuickScout™ TK Panel ver. 2.0
QuickScout™ TK Panel ver. 2.0 is comprised of 20 Pre-Selected Tyrosine Kinases including both receptor and non-receptor TKs, and is offered to help you rapidly screen your compounds against druggable and clinically relevant tyrosine kinases. Identification and optimization of small molecule inhibitors against many of the targets in our 20 TK Panel including ABL and EGFR has led to the development of first and second generation therapeutics for the treatment of diseases such as leukemia and cancers of the lung, breast, and kidney. The assay ATP concentration is fixed around the Km value. When combined with our STK30 Panel, these pre-selected panel options comprehensively target relevant kinases across the kinome.
Guide for our service customers
Please check our service schedule and assay conditions, then select "QuickScout™ TK Panel ver. 2.0" on the Application Form. Please submit the completed application form as an e-mail attachment to info@carnabio.com.
If you prefer to select other panels, such as ALL targets, Km/1mM ATPconc, or Preincubation targets, please start from here.
Target Name
Group
Source
(Carna Catalog No.)
ABL(ABL1)
Cytoplasmic Tyrosine
08-001
CSK
Cytoplasmic Tyrosine
08-111
EGFR
Receptor Tyrosine
08-115
EPHA2
Receptor Tyrosine
08-121
EPHB4
Receptor Tyrosine
08-131
FGFR1
Receptor Tyrosine
08-133
FLT3
Receptor Tyrosine
08-154
IGF1R
Receptor Tyrosine
08-141
ITK
Cytoplasmic Tyrosine
08-181
JAK3
Cytoplasmic Tyrosine
08-046
KDR(VEGFR2)
Receptor Tyrosine
08-191
LCK
Cytoplasmic Tyrosine
08-170
MET
Receptor Tyrosine
08-151
PDGFRα(PDGFRA)
Receptor Tyrosine
08-157
PYK2(PTK2B)
Cytoplasmic Tyrosine
08-138
SRC
Cytoplasmic Tyrosine
08-173
SYK
Cytoplasmic Tyrosine
08-176
TIE2(TEK)
Receptor Tyrosine
08-185
TRKA(NTRK1)
Receptor Tyrosine
08-186
TYRO3
Receptor Tyrosine
08-109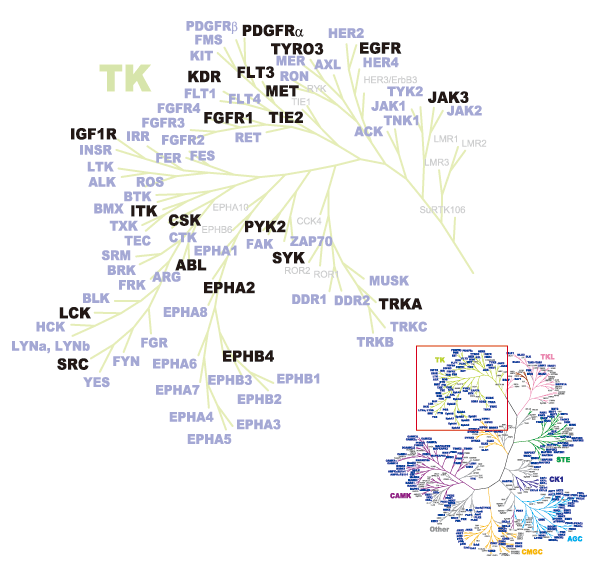 Service Schedule
September 2023
Sun
Mon
Tue
Wed
Thu
Fri
Sat
1
2
3
4
5
6
7
8
9
10
11
12
13
14
15
16
17
18
19
20
21
22
23
24
25
26
27
28
29
30
October 2023
Sun
Mon
Tue
Wed
Thu
Fri
Sat
1
2
3
4
5
6
7
8
9
10
11
12
13
14
15
16
17
18
19
20
21
22
23
24
25
26
27
28
29
30
31
Test sample cutoff for next assays
Assay Start Day for MSA / IMAPTM
Assay Start Day for ADP-Glo™ and MSA(Preincubation)
Date in Red
: Japan Holidays
Guide for Service Customers